Building SQL-Based OLAP Applications
SQL-based applications can access multidimensional data, which is stored in analytic workspaces. Two mechanisms in the database's object technology make this possible:
Object types (also called abstract data types or ADT) are the basis for object-oriented programming in PL/SQL. An object type encapsulates a data structure along with the functions and procedures needed to manipulate the data. When you define an object type using the CREATE TYPE statement, you create an abstract template that corresponds to a real-world object.

In OLAP, these "real-world objects" are measures, dimensions, hierarchies, attributes, and so forth. By defining object types for the objects in an analytic workspace, you can describe the format of multidimensional data to SQL as rows and columns.

Table functions produce a collection of rows that can be queried like a physical database table. You use a table function instead of the name of a database table, in the FROM clause of a query. A table function can take a collection of rows as input.

You can use table functions to fetch data from objects in an analytic workspace. The table functions require arguments that are passed to the OLAP engine, which selects, manipulates, and returns the data. By incorporating table functions into your application, you have the most power and flexibility in selecting and manipulating data in the analytic workspace.
If you overlay the table functions with relational views, then you can make the table functions (and thus the source of the data) transparent to SQL-based applications. Your applications can use standard SQL to run against these views of multidimensional data, the same way that they access other relational tables and views in the database.
Figure 3-1 shows how a SQL application can access multidimensional data (using table functions and views) as well as relational data.
Figure 3-1 Components of a SQL-Based Analytical Application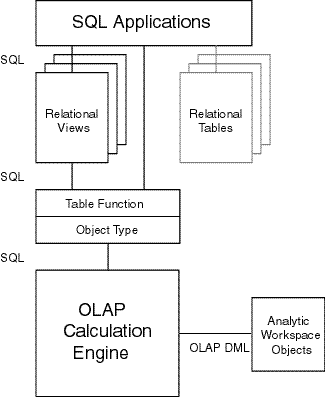 Text description of the illustration sqltodml.gif
Methods of Accessing Multidimensional Data From SQL
There are several ways that SQL can access the multidimensional data of an analytic workspace. An abstract data type and the table functions underlie all of them. The method that you choose depends on how you want to use the data.
Use the CWM2_OLAP_AW_CREATE package to create the analytic workspace from a star schema. Use other procedures in this package to define a star schema of dimension views and fact views, which represent the measures, dimensions, hierarchies, and attributes in the analytic workspace. You can then query these views using standard SQL SELECT statements. You can use other CWM2 APIs to create OLAP Catalog metadata based on these views.
If your analytic workspace did not originate from the AW_CREATE process, you can use the CWM2_OLAP_AW_ACCESS PL/SQL package to generate views of the workspace.
Write object type definitions and then make relational queries and views of the analytic workspace data by using the OLAP_TABLE function in SQL SELECT statements. This method is more complex than using CWM2_OLAP_AW_CREATE or CWM2_OLAP_AW_ACCESS, but it provides more flexibility and power in an application than using predefined views.
Embedding OLAP DML Commands in SQL
Using the procedures and functions in the DBMS_AW package, SQL programmers can issue OLAP DML commands directly against analytic workspace data. They can move data from relational tables into an analytic workspace, perform advanced analysis of the data (for example, forecasting), and copy data from the analytic workspace back into relational tables.
While the data is in the analytic workspace, SQL programmers can also issue SELECT statements against the data in the analytic workspace using the OLAP_TABLE function.