Syntax
extract_datetime::=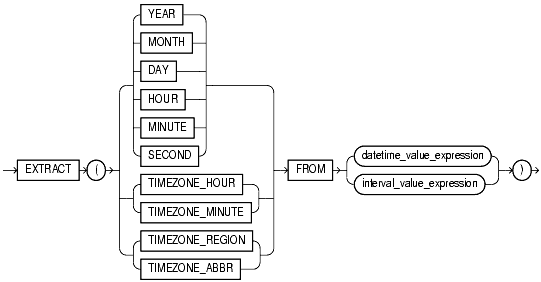 Text description of extract_datetime
Purpose
EXTRACT extracts and returns the value of a specified datetime field from a datetime or interval value expression. When you extract a TIMEZONE_REGION or TIMEZONE_ABBR (abbreviation), the value returned is a string containing the appropriate time zone name or abbreviation. When you extract any of the other values, the value returned is in the Gregorian calendar. When extracting from a datetime with a time zone value, the value returned is in UTC. For a listing of time zone names and their corresponding abbreviations, query the V$TIMEZONE_NAMES dynamic performance view.
Some combinations of datetime field and datetime or interval value expression result in ambiguity. In these cases, Oracle returns 'UNKNOWN' (see the examples that follow for additional information).
---
Note:
The field you are extracting must be a field of the datetime_value_expr or interval_value_expr. For example, you can extract only YEAR, MONTH, and DAY from a DATE value. Likewise, you can extract TIMEZONE_HOUR and TIMEZONE_MINUTE only from the TIMESTAMP WITH TIME ZONE datatype.
---
Examples
The following example returns the year 1998.

SELECT EXTRACT(YEAR FROM DATE '1998-03-07') FROM DUAL;

EXTRACT(YEARFROMDATE'1998-03-07')
---------------------------------
                             1998


The following example selects from the sample table hr.employees all employees who were hired after 1998:

SELECT last_name, employee_id, hire_date
   FROM employees
   WHERE EXTRACT(YEAR FROM
   TO_DATE(hire_date, 'DD-MON-RR')) > 1998
   ORDER BY hire_date;

LAST_NAME                 EMPLOYEE_ID HIRE_DATE
------------------------- ----------- ---------
Landry                            127 14-JAN-99
Lorentz                           107 07-FEB-99
Cabrio                            187 07-FEB-99
.
.
.

The following example results in ambiguity, so Oracle returns 'UNKNOWN':

SELECT EXTRACT(TIMEZONE_REGION 
      FROM TIMESTAMP '1999-01-01 10:00:00 -08:00')
   FROM DUAL;

EXTRACT(TIMEZONE_REGIONFROMTIMESTAMP'1999-01-0110:00:00-08:00')
----------------------------------------------------------------
UNKNOWN


The ambiguity arises because the time zone numerical offset is provided in the expression, and that numerical offset may map to more than one time zone region.